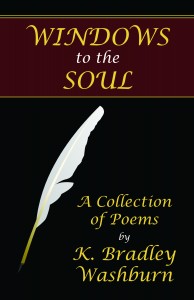 My 2011 book of poetry, Windows to the Soul is now available on multiple platforms!
Windows to the Soul is "A collection of original poetry, composed by K. Bradley Washburn between 1996 and 2006. The seventy-five poems in this volume are actually part of a larger unpublished work titled "Tapestry," and consist of love poetry, religious ballads, and random musings."
For the second wave of my book, I have replaced the old 2011 cover with a new, updated cover. Those who purchase a paperback copy will still receive the old cover, but all ebook editions have the redesigned cover. Click the links below to purchase Windows to the Soul from your favorite retailer.
Amazon (Paperback
, Kindle
)
Nook
Kobo
Smashwords (many formats)