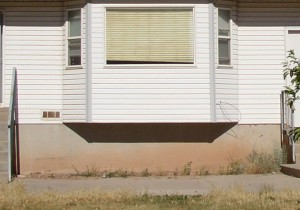 I have always wanted to have a nice little strawberry patch, so last summer I decided to build a raised bed for planting strawberries. Between the stairs to my garage and the stairs to my back door sat a patch of dirt, about 18 feet long and 3 1/2 feet wide. When I first saw this patch of dirt, I knew it was the perfect place to build my raised bed. A quick Google search turned up many results for building a raised bed, but I quickly discovered that what I really needed was a mini-retaining wall.
Many of the raised beds I found online called for free-standing beds with walkways all around for sitting or kneeling while gardening. I only needed to build one wall of my bed, using the house foundation and the two sets of stairs for the other three walls. I also wanted to build the bed a little taller than most I found online so I could build a bench at a comfortable height for sitting. With this in mind, I decided to build my wall out of 2x6s, stacked three high to achieve a height of about 18 inches.
At the local lumber store, I purchased six 10-foot long 2×6 boards for the wall and two 8-foot long 4×4 posts to support the wall. I cut four 2 1/2 foot lengths from the posts to use for support for the wall and cut three of the boards down to 8 feet long. I then dug four holes for the posts – one on each end of the bed and the other two evenly spaced along the length of the wall.
After burying the posts, I attached the 2x6s in an alternating pattern to the posts with screws. A couple of coats of deck stain and my strawberry bed was ready to be filled with dirt.